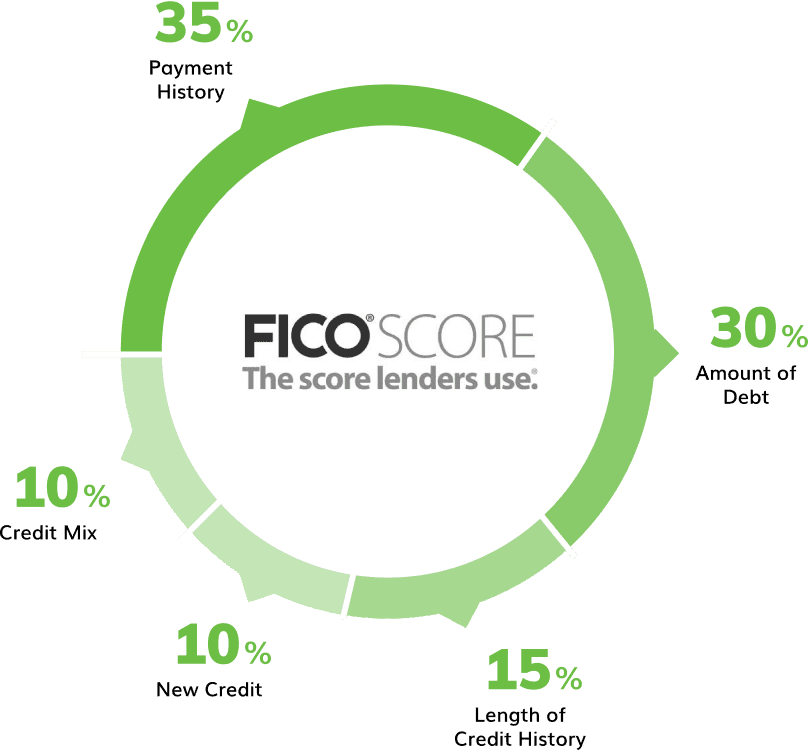 Credit Mix is the types of credit used. Examples may be revolving credit cards or revolving lines of credit,  or installment credit like a fixed loan amount. Approximately 10% of a FICO® Score is based on this information.
FICO® Scores consider the mix of credit cards, retail accounts, installment loans, finance company accounts and mortgage loans. It is not necessary to have one of each, and it is not a good idea to open a credit account you don't intend to use. In this category a FICO® Score takes into account:
What kinds of credit accounts are on the credit report? Whether there is experience with both revolving (credit cards) and installment (fixed loan amount and payment) accounts, or has the credit experience been limited to only one type?
How many accounts of each type exist? A FICO® Score also looks at the total number of accounts established. For different credit profiles, how many is too many will vary depending on the overall credit picture.
Why is my FICO or Vantage credit score different from each of the three major credit bureaus?
Each of the three major credit bureaus obtains data independently. A financial institution or non-bank lender that reports credit may only report credit to one or two of the bureaus, so the information each bureau uses to calculate your credit score may vary.
Credit Strong reports your loan to all three major bureaus.
Federal law allows you to request your credit report free of charge from each of the three major bureaus annually. Note that you may receive only your credit report from each bureau and not a credit score. You can request your annual credit reports at www.annualcreditreport.com*.
*Please be advised that by clicking the link above you will leave Credit Strong's website. The link is provided only as a courtesy. Credit Strong does not endorse or control the content of third party websites.
Accountholders must be at least 18 years old and a citizen of the United States or permanent resident with a valid social security number. Applicants for accounts are subject to verification of identity. A valid bank account or debit card account are required for payment. All loans are subject to consumer report review and approval.
Credit Strong is NOT a credit repair service and does not remove negative credit history from your credit profile. Disclaimer: Credit profile improvement is not guaranteed. Changes in your credit score reflect individually specific financial behavior and history. Failure to make minimum required loan payments on-time may result in your loan payment(s) being reported as delinquent to credit bureaus which may negatively impact your credit profile.
Testimonial Disclaimer: Individual results may vary. Unique experiences and past performance for individuals do not guarantee future results for other individuals. Testimonials may not be representative of all individuals and certain individuals may have inferior results than indicated in testimonials.
Credit Strong® is a registered trademark of Austin Capital Bank SSB. FICO® is a registered Trademark of Fair Isaac Corporation. Austin Capital Bank SSB. Member FDIC. Equal Housing Lender. © 2019 Austin Capital Bank SSB. All Rights Reserved.