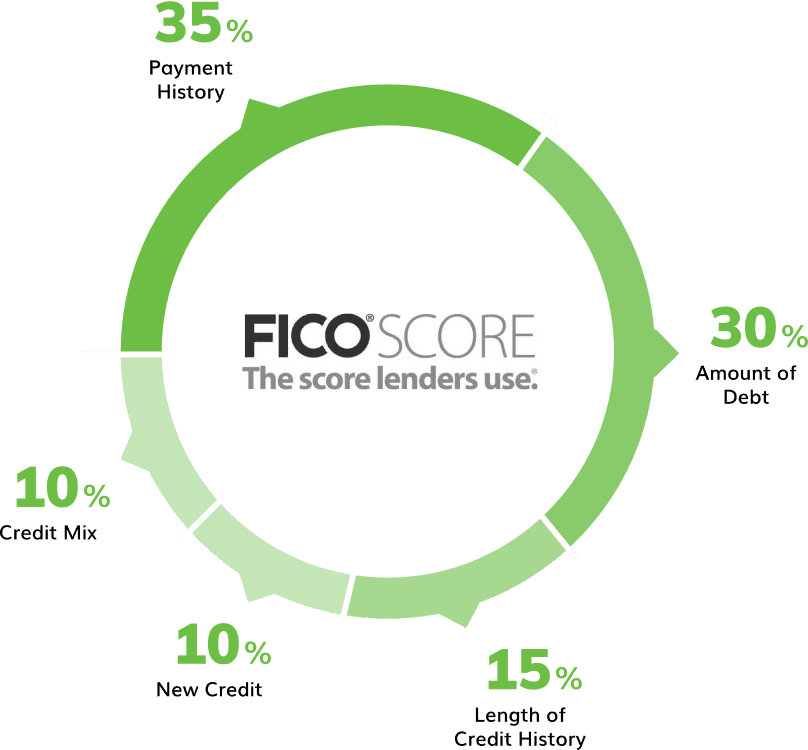 New Credit is the new account opening activity and any recent 'hard' credit inquiries from lenders on your credit report. Approximately 10% of a FICO® Score is based on this information.
FICO's research shows that opening several credit accounts in a short period of time represents greater risk—especially for people who do not have a long credit history. In this category a FICO® Score takes into account:
How many new accounts have been opened.
How long it has been since a new account was opened.
How many recent requests for credit have been made, as indicated by inquiries to the consumer reporting agencies.
Length of time since inquiries from credit applications were made by lenders.
Whether there is a good recent credit history, following any past payment problems.
Looking for an auto, mortgage or student loan may cause multiple lenders to request your credit report, even though you are only looking for one loan. In general, FICO® Scores compensate for this shopping behavior in the following ways:
FICO® Scores ignore auto, mortgage, and student loan inquiries made in the 30 days prior to scoring. So, consumers who apply for a loan within 30 days, the inquiries won't affect the score while rate shopping.
After 30 days, FICO® Scores typically count inquiries of the same type (i.e., auto, mortgage or student loan) that fall within a typical shopping period as just one inquiry when determining your score.
Accountholders must be at least 18 years old and a citizen of the United States or permanent resident with a valid social security number. Applicants for accounts are subject to verification of identity. A valid bank account or debit card account are required for payment. All loans are subject to consumer report review and approval.
Credit Strong is NOT a credit repair service and does not remove negative credit history from your credit profile. Disclaimer: Credit profile improvement is not guaranteed. Changes in your credit score reflect individually specific financial behavior and history. Failure to make minimum required loan payments on-time may result in your loan payment(s) being reported as delinquent to credit bureaus which may negatively impact your credit profile.
Testimonial Disclaimer: Individual results may vary. Unique experiences and past performance for individuals do not guarantee future results for other individuals. Testimonials may not be representative of all individuals and certain individuals may have inferior results than indicated in testimonials.
Credit Strong® is a registered trademark of Austin Capital Bank SSB. FICO® is a registered Trademark of Fair Isaac Corporation. Austin Capital Bank SSB. Member FDIC. Equal Housing Lender. © 2019 Austin Capital Bank SSB. All Rights Reserved.